About MH21-S
About MH21-S R&D consortium
The MH21-S R&D consortium (MH21-S) was established in 2019 in order to conduct a R&D project for the pore-filling type of methane hydrate. MH21-S consists of Japan Organization for Metals and Energy Security (JOGMEC), National Institute of Advanced Industrial Science and Technology (AIST), and Japan Methane Hydrate Operating Co., Ltd. (JMH). The Japanese Ministry of Economy, Trade and Industry (METI) launched a new phase (the Phase Four) of the program that spans the Japanese fiscal years of 2019–2022 (from April 2019 to March 2023).(note)
The new R&D program was designed in accordance with the Plan for the Development of Marine Energy and Mineral Resources, and the MH21-S has begun executing the part of the plan covering the pore-filling type of methane hydrate.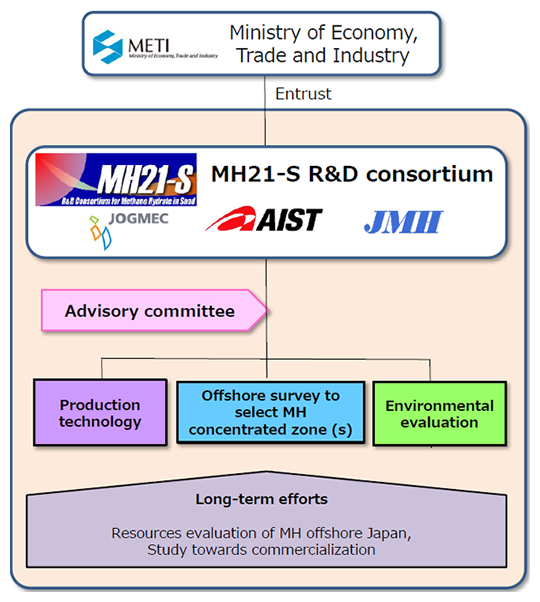 Phase Four (FY2019 to FY2022)(note) Implementation structure
(note)At the 38th Advisory Committee for National Methane Hydrate R&D Program of METI (held on November 17, 2021), it was indicated that the duration of the Phase Four will be extended by one year to the end of FY2023.